A distributed network of 'honeypots', computers running special network traffic capture software, can be used to easily track the distribution of the most popular exploits and commonly exploited vulnerabilities. Collecting data from a reasonably large number of systems,and sorting it by type, source and destination provides statistics on the most common attacks, the most secure (or insecure) geographical areas and how the preferences for one set of exploits or another changes over time.
For instance, here's the list of the most exploited vulnerabilities collected by the Smallpot project for September 2004: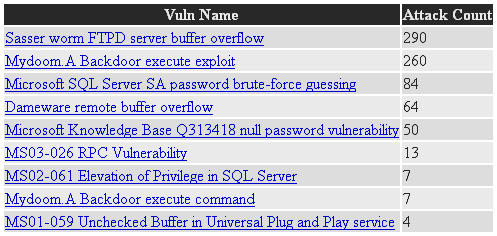 Most exploited vulnerabilities reported by the Smallpot project in September 2004
The SANS (SysAdmin, Audit, Network, Security) Institute and the National Infrastructure Protection Center (NIPC) at the FBI also releases a document listing the most critical Internet security vulnerabilities every year.
This is SANS Top 20 vulnerabilities for 2004:
Top Vulnerabilities to Windows Systems

W1 Web Servers & Services
W2 Workstation Service
W3 Windows Remote Access Services
W4 Microsoft SQL Server (MSSQL)
W5 Windows Authentication
W6 Web Browsers
W7 File-Sharing Applications
W8 LSAS Exposures
W9 Mail Client
W10 Instant Messaging

Top Vulnerabilities to UNIX Systems

U1 BIND Domain Name System
U2 Web Server
U3 Authentication
U4 Version Control Systems
U5 Mail Transport Service
U6 Simple Network Management Protocol (SNMP)
U7 Open Secure Sockets Layer (SSL)
U8 Misconfiguration of Enterprise Services NIS/NFS
U9 Databases
U10 Kernel